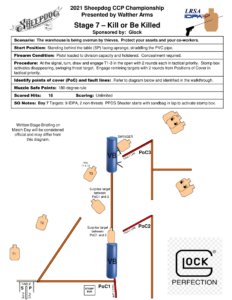 The next stage up for review from the 2021 Sheepdog CCP Championship is the stage formerly known as Stage 7, "Kill or Be Killed". I didn't take a poll or anything, but I have a feeling this was probably a very popular stage as it really lent itself well to handling as much speed as you could give it.
My plan was fairly straight-forward, but I ended up outrunning my sights and had to take a mid-stage make-up shot. That put me into conscious problem solving mode which not only slowed me down but also ended up causing some delayed pain. You can see it on the 5th target I engaged, the 1st one after the swinger. However, unlike a couple of stages I had struggled on previously, I was able to quickly come up with a new plan instead of riding the broken plan into the ground. However, the new plan didn't leave me room for any make up shots at the end, and while I acknowledged that fact, I didn't respect the targets in the last array and ended up tagging the left shoulder of the 8th target on my second shot adding 3 seconds to my time. That ended up being my third scored shot of the day that wasn't a zero. There would be a total of 4.
Still though, my speed kept me from falling too far back, and I placed 23rd overall on this stage. I have to congratulate my friend Jeff Nelson who took the overall win on this stage by getting through it 1.09 seconds faster than me and with a clean sheet (no added time). Stage wins are a big deal amidst competition like we had at this match.
Check out the video below.
---
Great
Movement was awesome
Reloads were on point
Plan re-negotiation was done at speed.
Good
Shot-calling was good even if it ended up initiating a conscious override.
Trigger speed
Engagement time on new arrays.
Accuracy!
Turn and Draw was smooth.
Needs Work
Ignoring pressure to make up time after an unplanned slowdown.
Discipline to stick to a plan by respecting the shots I don't want to make up.
---
See anything I need to add to these lists? Let me know!
Special thanks to Walther Arms for being the title sponsor, and Glock for sponsoring the stage, adding themselves to a long and distinguished list of Sheepdog CCP Championship Supporters in the process.