I love the shooting sports, and I love being competitive. The latter is a character trait that was gifted to me and has always been a part of my identity, full stop. The shooting sports, however, are a more recent pursuit. But the truth is that I've always loved to shoot and my competitive nature has always found it's way in.
Shooting has always made sense to me and I was a natural marksman with just about every platform I could get my hands on; bb guns in the back yard, .22 rifles at my high school range, and the earlier days of competitive paintball.

That affinity for marksmanship served me well during my brief, but busy, time in the United States Marine Corps, never qualifying below Expert in rifle or pistol, and being a quick study in multiple weapons systems of varying degrees of complexity.
Two decades later, and in search of an expensive hobby, I came back to shooting and found my way to the International Defensive Pistol Association (or IDPA for short). While it has been something of a springboard to other related action shooting sports, it has also been my primary focus. In 2017, I finally started getting serious about competing beyond the local clubs and began concentrating on my personal development. It started paying off almost immediately. While my effort has been overwhelmingly in the Compact Carry Pistol division (CCP), I took a break this year to earn my Master classification in Stock Service Pistol (SSP) with a factory spec version of my normal CCP sidearm, the CZ P-10 C. Next will be Carry Optics, Enhanced Service Pistol, and Compact Carry Pistol, though not necessarily in that order.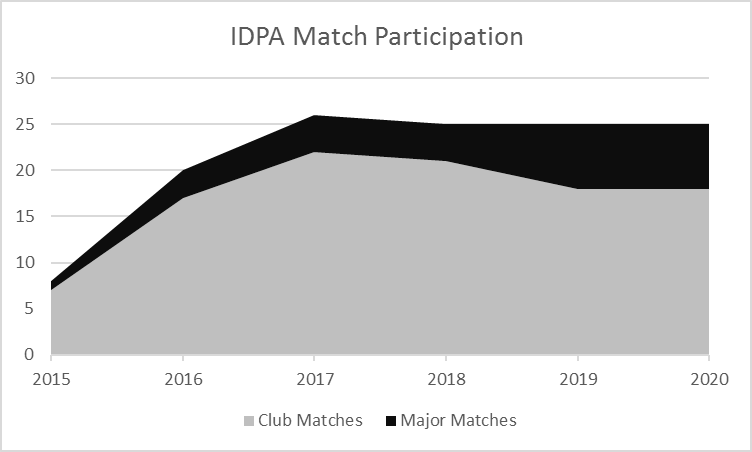 But it's not all just about competing. I love helping out and watching shooters come into their own in the sport. To that end, and with the help of some similarly minded local shooters, we have created Gateway IDPA, an online community to support club and shooter development in the greater St. Louis metropolitan area (both Missouri and Illinois). Furthermore, this year I'm going to be taking over the role of Match Director at the Benchrest Rifle Club of St. Louis and trying to make a few sanctioned matches available in our state again.
2021 is going to be a busy year, and I am lucky to have the kinds of family, friends, and excellent sponsors to help me make it awesome. I'm looking forward to having you be a part of it too.
Thank you for visiting, and please follow me on facebook, instagram, twitter or just send me some email!