This stage was the 7th (of 12) stages on our squad's rotation which means it was the first stage of the second half of the match. Coming into the match I was concerned about my stamina given my experience at CASA's Fall Brawl at the end of October but I really shouldn't have been. If anything, the opposite was true, and I was getting faster and smoother as I warmed up. This was the first stage of the day where I felt really connected to my stage plan and my subconscious skill.
Marksmanship has always been a strength of mine, and while that fact has presented it's own challenges in my development as a competitor, I've always been able to rely on my ability to make the difficult shot if I needed to or if it gave me an opportunity to create some distance between myself and the competition.

This very straightforward stage was an accuracy drill, and a chance to flex my marksmanship muscles. I shot it clean in 14.30 seconds, which won the high overall by 2.26 seconds.
It's not the most exciting video, but I'm pretty proud of it.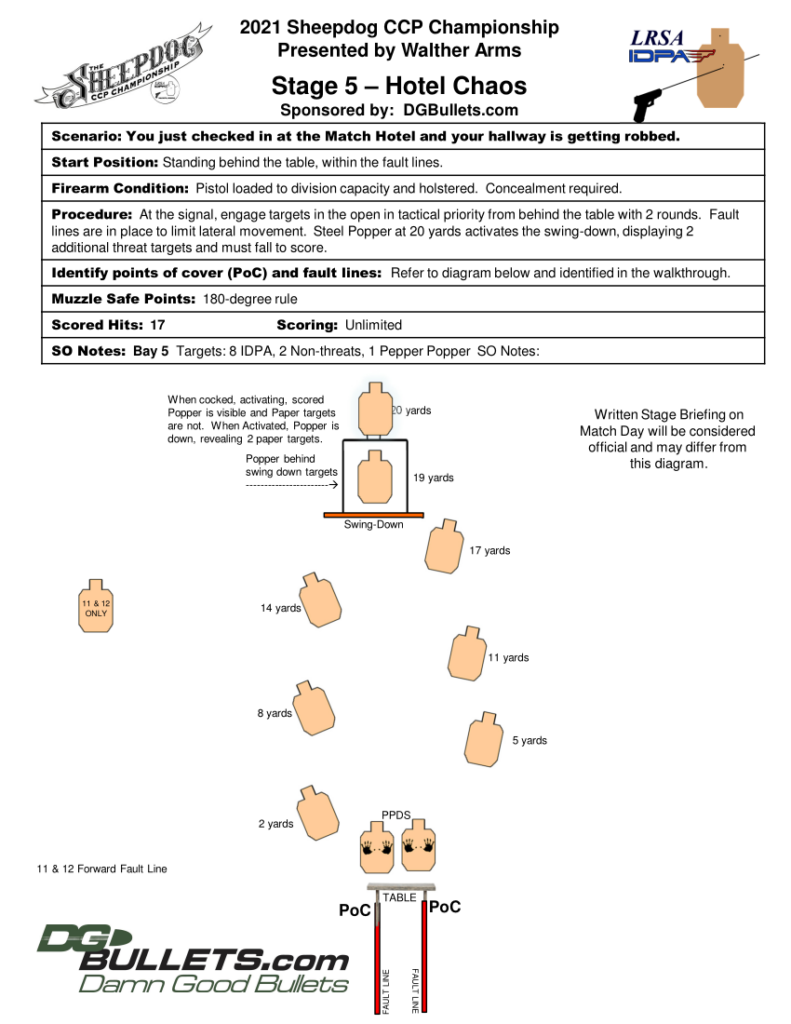 ---
Great
Accuracy was on FIRE
Shots = Called
Visual Patience respected the plan and the difficulty of the shot
Plan was to get it done in 17 shots, buying me 2+ seconds to distribute to targets in hundredths at a time
Okay
Needs Work
Draw to first shot should be sooner
Reduce the time between shots for the reload
Work on transitioning directly between shots I want to take (rather than to the target and then to the zero)
---
See anything I need to add to these lists? Let me know!
Special thanks to Walther Arms for being the title sponsor, and DG Bullets for sponsoring the stage, adding themselves to a long and distinguished list of Sheepdog CCP Championship Supporters in the process.